---
Pinaisara Waterfall 1 day tour.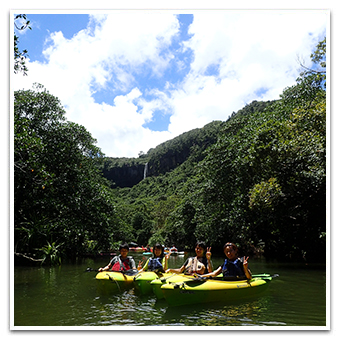 Pinaisara is the largest waterfall in Okinawa , with a height of about 55m. "Pinai" means a beard and "sara" means a waterfall.
This name was given to the waterfall because it looks like an old mans beard, when looked at from a distance. Tour consist of kayaking on the river and hiking on a beautiful mountain path to the falls.
This one day tour goes to the top of the falls and back down to the basin. While there you will be able to view the natural beauty of the island, a site that will stay with you forever.

Beginners are Welcomed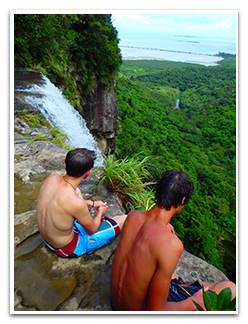 Tour Available
All year round
Required age
Over 5 years
Fees
Adult ¥11,000
Child under 12 years ¥9,000
Tour lenght
6h~7h
Items used
River Kayak and Boots
Your Preparation:


Please bring drinking water for the tour. (1-2 500ml bottle)
Bring some cloth for change if you come from Ishigaki.
Be ready for getting wet. Wear swimsuit inside.

Price includes :


Shoes, waterproof bag, backpack and lunch.

Caution:


Depending on the weather conditions, the tour route might be modified, or ended early for safety purposes.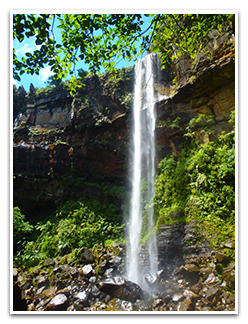 Rough Time Table
9:00
Shuttle service (pick customer up at their hotel or sea port).
9:30
Arrive Staging point Mare River, for quick class/lesson for Kayaking tour.
10:00
Depart on tour (start kayaking the Hinai river).
11:00
Arrive destination (upper reach Hinai River) to start Hiking.
11:50
Arrive at the top of the Pinaisara Waterfalls.
12:00~13:00
lunch break..
13:00
Hike to the basin of the Waterfalls .
14:00
Arrive at the basin.Rest and relaxation, water play and snack..
14:40
Hike back to the upper reach of the Hinai River .
15:00
Arrive at the upper reach of the Hinai River (start Kayaking down the river).
16:00
Arrive staging point.

NOTE:During the summer season, all the tours might be one hour early.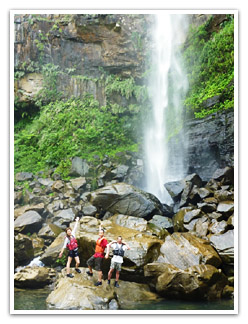 ピナイサーラとは?
「ピナイ滝」西表島では、"ピナイサーラ"と呼ばれ、"ピナイ"は白いヒゲ、"サーラ"は滝という意味で、つまり白く長いヒゲのような滝という意味になる。ヒナイ川の上流にあり落差は約55mで沖縄県下で最大級の滝である。
サキシマスオウノキとは?
サキシマスオウノキ(先島蘇芳木)は、マングローブ林のあるような湿地の内陸に生育し、奄美大島、沖縄、石垣島、西表島などに分布する。大きな板のような根(板根)が特徴で、昔はこの板根を船の舵として使用した。 板根を持つ樹木は他にも存在するが、その仲でもサキシマスオウノキは群を抜いて立派と言われる。
大きな板根のサキシマスオウを見つけられるかな?・・・