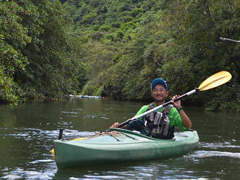 Naoya Ojima (Owner & tour guide)
Blood type A
He was born in 1976 in Saitama. After graduating high school, he lived in Michigan and Oregon US. After coming back to Japan, he helped his friend's business and after that worked at jewelry brand. Then he moved to Iriomote with his wife, Reiko. He is the father of two wild sons! He has been working as a tour guide over fourteen years in Iriomote island, as certified guide by Okinawa kayak guide association. He takes rescue training session by Okinawa kayak guide association, CPR and AED training session, and kayak rescue and skill training session every year for multiple times continuing to improve his skill and make sure the safe tour.
He met canoe( sea kayak Canadian) when he was in high school helping the nature center in Shikaribetsu Hokkaido, then he got fascinated with the job in wildness.
Let's play in Iriomote's nature together!
I'm looking forward to seeing you!!

2004 interpretation association/CES interpreter training seminar completion.
2004 project wild educator seminar completion ・Certified kayak guide by Okinawa kayak guide association
OMSB life guard