Pinaisara Waterfall half day tour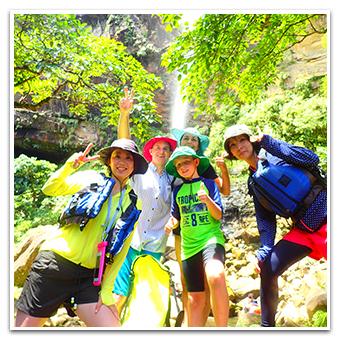 This tour takes you to the basin of Pinaiasara Waterfalls, the largest waterfall in Okinawa, we will arrive there by kayaking and hiking.
This tour is highly recommended for families with kids, or if you just want to spend a half day sight seeing.
This tour takes you kayaking the Hinai River surrounded by Mangrove woods, and a nice hike into the Sakishimasuounoki forest. You may also enjoy some free time playing in the basin of the Pinaiasara Waterfalls.
Beginners are Welcomed

Tour choices
Morning tour
Aternoon tour
Direct Booking Discount Campaign from here !! ¥1,000 off / per
Tour Available
All year round
Required age
Over 5 years
Fees
Summer May-Sep: Adult ¥9,000
Child under 12 years ¥8,000
Direct discount ¥ 1,000 off
If you wish to do afternoon tour review below for cost
Tour lenght
4h~5h
Items used
River Kayak and Boots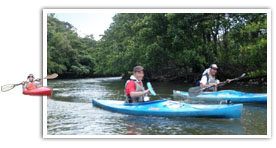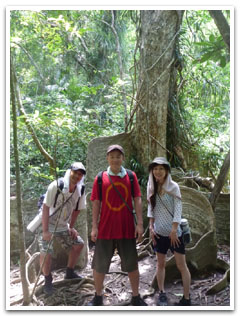 Your Preparation:


Please bring drinking water for the tour. (1-2 500ml bottle)
Bring some cloth for change if you come from Ishigaki.
Be ready for getting wet. Wear swimsuit inside.

Price includes :


Shoes, waterproof bag, backpack and lunch.

Caution:


Depending on the weather conditions, the tour route might be modified, or ended early for safety purposes.

Rough Time Table
9:00
Pick up at the Hotel or Sea Port
9:30
Arrive at tour preparation point for training (Mare River upstream )
10:00
Depart on tour (start kayaking the Hinai river).
10:50
Arrive upstream Hinai River, start hiking to Pinaiasara Waterfalls
11:10
Arrive at the waterfalls , rest and water play
12:00
Depart the waterfalls and hike back down to Hinai River
12:20
Arrive at the Hinai River, and depart by kayak to Mare River upstream.
13:10
Arrive back to Mare Hinai upstream.

NOTE: During the summer season, all the tours might be one hour early.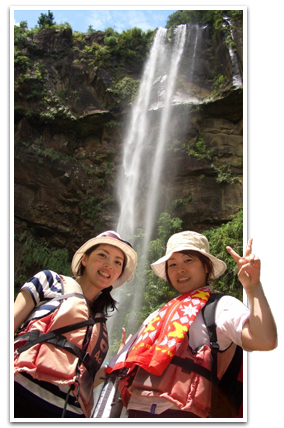 What is Pinaisara?
"Pinai Falls" In Iriomote Island, it is called "Pinaisara", that "Pinai" means a white beard and "Sara" means a waterfall.
It is located upstream of the Hinai River and has a drop of about 55m, making it one of the largest waterfalls in Okinawa Prefecture.